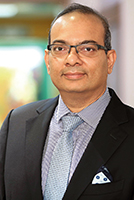 Keshav R. Murugesh​
Group CEO of WNS Global Services and Chairman of NASSCOM
Session - Keynote Address
Based in Mumbai, Mr. Murugesh is responsible for executing the business strategy and directing the overall performance and growth of the 38,000+ people organization across 14 countries, 57 offices, and a market capitalization of over USD 2.5 billion. He has differentiated WNS as the first player in the outsourcing space to implement an end-to-end vertical approach, a technology-enabled offerings program and a unique client-centric client-partner program wherein Analytics, Robotics, Mobile, Social and Cloud solutions have been coopted into operational models to deliver actionable insights to clients.

Mr. Murugesh, known as the 'Turnaround Guy', has been at the helm of global majors such as Syntel and ITC (an affiliate of BAT Plc). Apart from his professional crests, he is a BPM industry evangelist. He was chairing the NASSCOM BPM Council for two consecutive terms. He led a massive industry rebranding campaign called 'Become World Worthy'; created a conducive ecosystem for building the talent pool through closer ties between industry and the academia, and introduced first-of-its-kind NASSCOM BPM Pioneer Awards. He is also the Chairman of the NASSCOM Consumer Interest Protection Task Force.

He introduced the first-ever Cyber Crime educational series for the Mumbai Police through WNS and NASSCOM; was closely involved with establishing a first-of-its-kind unrelated marrow donor registry in India; brought the Students in Free Enterprise (SIFE), now called Enactus, into Indian waters for the first time, and as its Chairman for six years, built an incredible connect between the student communities and businesses.

Mr. Murugesh is a Member on the Board of WNS Cares Foundation (WCF) that focuses on education for lesser-privileged children as the core medium of community outreach and uplift in WNS locations, globally.

Keshav has been recently recognized with the CNBC-TV18 India Business Leader Award and announced as the CNBC Asia's 'India Disruptor of the Year'. He is also a recipient of the prestigious Chartered Accountants Achiever award 2013, and 'Outstanding CEO' at the Asia Pacific Entrepreneurship Awards 2015.

Keshav is a global thought leader, who also spoke at the Harvard India Conference 2018.