Speaker Profiles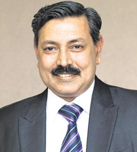 Shri Prabhat Singh
Managing Director & CEO, Petronet LNG Ltd
Experience:
Prabhat Singh is MD & CEO, Petronet LNG Ltd. since September, 2015. He is an Engineering graduate from IIT, Kanpur, and having around 36 years of relevant experience in the Hydrocarbon Industry both in MNC (British Gas) and Maharatna PSUs (GAIL, NTPC, EIL) etc. He is a vastly experienced professional having worked his way up in diverse areas including Project Planning, Execution & Management, Exploration & Production, Training & Organizational Reforms and Business Development Marketing.

Prabhat has been Director of Marketing of GAIL (India) Limited and also served as (i) Chairman of Ratnagiri Gas and Power Private Limited (RGPPL) erstwhile Dabhol Power Company and during his tenure has commissioned the 5 MMTPA LNG regasification terminal at Dabhol and (ii) Chairman of GAIL Global Singapore Pte Ltd. (GGSPL) - a global trading arm of GAIL at Singapore, which is currently creating value & managing India's pioneering efforts towards global LNG business.

Prabhat has been instrumental in putting the country on the world gas map, India being one of the first countries to have sourced LNG (based on Henry Hub) from the US. His major contribution has been the execution of world's longest exclusive LPG pipeline from Jamnagar to Loni. The project was recognized by Asian Development Bank as the "Best Managed Project" of the year. He was also instrumental in ushering in the "Open Access Common Carrier Principle" in India. Prabhat is one of the core contributors to the concept of gas pooling for power & fertilizer sector which is under successful implementation. Prabhat is instrumental for successful negotiations in the various International Contracts.

Prabhat has also been a member of National Auto Fuel Policy of MoPNG & member of the Governing body of Rajeev Gandhi Institute of Petroleum and Technology, Rai bareily. IIT, Kanpur honoured him with Distinguished Alumnus Award in November, 2016 for his professional excellence. Times Ascent presented him a CEO with HR Orientation Award in February, 2017. Today, Prabhat is recognized as a visionary professional in the Industry for having a great business sense with a human touch & excellent communication skill.