Speaker Profiles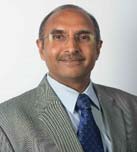 Mr. Yogi Sriram
Senior Vice President - Larsen & Toubro Limited
Experience:
Yogi Sriram is Senior Vice President – Corporate Human Resources & Member of the Executive Committee, Larsen & Toubro Limited, a USD 18 billion technology, engineering, construction, manufacturing and financial services conglomerate, with global operations. He also leads a world class Institute of Project Management.
I am a self-driven and focused HR leader with 41 years of experience in multiple HR functions across diverse industries right from Manufacturing, Hospitality, Finance, FMCG, Engineering, Petroleum, and now, Construction.

Few of the brands that I have closely worked with are Asea Brown Boveri Limited, British Petroleum, Taj Group (Tata) and the Shriram Group (Earlier DCM).

Proven expertise in the areas of : Talent spotting, succession planning, career sculpting, organisation development, talent management and change management.

Currently one of the longest serving HR leaders in the country.

Academic Qualifications:
Masters in Personnel Management & IR, Tata Institute of Social Sciences
M.B.A. in Organization Behaviour, Faculty of Management Studies (FMS), University of Delhi
L.L.B. University of Delhi
B.A (Honours) degree in Economics, Shriram College of Commerce
Awarded an Honorary Doctorate of Letters, ITM University.
Diploma in Training and Development from ISTD.
Certifications:
Accredited in psychometric testing techniques such as MBTI at NTL Maine US, FIRO-B.
Extensive training in personal counselling (Karkuff Model).
Certificate Course on "Appreciative Enquiry" delivered by a Faculty of Case Western Reserve University, Cleveland Ohio.
Admitted as the first HR professional in India as Fellow All India Management Association (AIMA).
Other accomplishments:
All India Management Association (AIMA) - Admitted as the first HR professional in India as Fellow.
Membership in professional fora:​
Member of the Executive Committee, National Board of Accreditation
Member of the Advisory Committee of Shailesh J Mehta School of Management, IIT Bombay.
Member of the Governing Board of SP Jain Institute of Management and Research.
Member of the Advisory Board for PGDM (HR) program of T A Pai Management Institute
Member of the HR committee to advise the board of NMIMS.
Past President of the Bombay Management Association (BMA) & NHRDN Mumbai Chapter
Noteworthy speaker sessions in 2018:​
Emotional & Social Intelligence, 27th January 2018 at Kalinga Institute of Industrial Technology (KIIT)
L&D Roles & Competence - NHRDN - KPMG Annual Signature Event 'Learning on Point 2018' on 21st February, 2018 at ITC Grand Central, Mumbai.
Next Wave of Leadership Excellence - NHRDN Summit, Hyderabad on 17th August 2018
Role of Industry in Technical Education - World Summit on Accreditation - 8th September 2018
Recruitment Best Practices Latest Trends – IEDC Bled school of Management, Slovenia –
11th October 2018
Competencies For Business And Social Challenges - IEDC Bled school of Management, Slovenia -12th October 2018
Panel discussion on Agile HR: Flexible Performance Management and Rewards- How Technology can help? TecHeart Conference Bangalore, 8th December 2018
Other interests:
I like to collect HO/OO Scale Model Trains and I enjoy conversion of analogue trains into digital trains.
I am also a wild life photography enthusiast particularly interested in clicking shy mammals, accipitriformes, owls and other birds in flight.
Much of my work is available on Facebook: https://www.facebook.com/yogi.sriram​