Speaker Profiles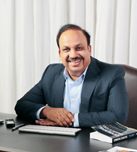 Mr. Pankaj Munjal
Chairman and MD, Hero Cycles
Career Facts and Other Highlights
Mr. Pankaj Munjal is a 2nd generation entrepreneur hailing from Ludhiana, Punjab – "The Land of five rivers". Born in Year 1962 at Ludhiana to Late Mrs. Sudarshan & Late Mr. O. P. Munjal. Mr. Pankaj Munjal finished his early schooling from Lawrence School, Sanawar, and has been trained in Automotive Manufacturing at Kettering University (formerly General Motors Institute), Flint in USA and have attended executive programs in Strategic Marketing Management at London Business School & Harvard University.
Mr. Pankaj Munjal started his professional life with joining Hero Cycles as Rim Plant Production in-charge in Year 1985. His tryst with mobility started in 1988 when he started leading Hero Motors Limited. Under his leadership, the company innovated value automotive segment with its flagship offering of 2 Stroke Geared moped – "Hero Puch" which became a cult for younger generation of that era. He became managing director for Hero Motors Ltd. In year 2001.
Mr. Pankaj Munjal took over the executive responsibilities of Hero Cycles Ltd in 2006 as Whole-time Director and has taken the company to new heights. Today, Hero Cycles is the market leader in both standard and special bicycle segments in India, with an overall market share of about 36 per cent. It also exports to various countries in Middle East, Africa, Asia and Europe. He also serves as the president of All India Cycle Manufacturers' Association.
Besides Hero Cycles, Mr. Pankaj Munjal currently serves as Managing director for Hero Motors Ltd & Director on the board of Munjal Showa Ltd, Munjal Kiriu Industries Pvt Ltd, ZF Hero Chassis Systems Pvt Ltd, Hawk Cycles Pvt Ltd, UT Bikes Ltd, Firefox Bikes Pvt Ltd, Munjal Hospitality Pvt Ltd, Bhagyday Investments Pvt Ltd, Opm Global BV and Avocet Sports (UK).
Mr. Pankaj Munjal today has grown hero cycles from being just a cycle company to a powerhouse & today have businesses spanning from Mobility (Hero Cycles, Avocet, Firefox & BSH), Automotive (Hero Motors, ZFH, Munjal Kiriu), Engineering (SPUR, HGD), Lifestyle (OMA) & Hospitality (Munjal Hospitality).
Mr. Pankaj Munjal is not only a renowned businessman but also a known philanthropist. He supports several educational institutions and hospitals across India.
Aon Hewitt Manufacturing Industry Rewards Conference 2017
Date:
23rd November 2017
Venue:
The Leela, Gurgaon

Timings:
10:00 am to 5.00 pm.