Speaker Profiles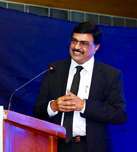 Mr Thiru A Thirunavukkarasu
President – Corporate HR, JK Organisation
Experience:
Mr A Thirunavukkarasu, popularly known as Thiru assumed his current role effective June, 2015 as the President – Corporate HR at JK Organisation (EZ), an eminent, diversified group with interests in Tyre, Cement, Paper, Seeds, V-Belts etc, in addition a prestigious University.

Prior to assuming this role, Thiru was associated with Vedanta Resources Plc, a global diversified Natural Resources Major as President – Group HR and Member of the Executive Committee.

Thiru commenced his career with English Electric and worked for Hindustan Lever (currently HUL) and TVS Electronics before joining Vedanta Group. Thiru considers his initial 5 years in English Electric as a strong foundation followed by 10 years at Hindustan Lever Ltd, which shaped him to evolve as a zealous and upright HR professional.

Thiru provides strategic HR insights and pragmatic solutions to the CEOs of operating companies and their leadership teams. Thiru's top three strengths are Strong Domain Knowledge, Very Articulate and Out of Box Thinking as per TVRL's 360 feedback in 2016 and his Leadership Style profiling scored highest as Pioneer followed by Driver in congruence with the HBR's C-Suite study in 2017.

Thiru has been working closely with world renowned CEOs and Academia and cherishes their feedback as a strong reinforcement for his professional courage and conviction. While Tom Albanese (Rio Tinto) wrote," Thiru, you have a passion for people's development and alignment with the company, also a heartfelt commitment to integrity something I've deeply appreciated" and John Davis (Duke CE) added "You are a true professional and a positive force for the organisation, and your keen expertise in understanding what it takes to develop talent is quite clear", Cynthia Carroll (Anglo American) commented conclusively that, "You are relentless in working to deliver best practices in the area of human resources, recognizing that this is the key differentiating factor of a truly great company. Your approach relating to talent management, succession planning and organizational structure has been both insightful and impactful, contributing to ground breaking results."

Thiru periodically visits premier Engineering and Management Schools including IIMs, IITs, NMIMS, SPJIMR, Delhi School of Economics besides participating in panel discussions at National level HR summits organized by AIMA, NHRD, CNBC TV 18, ET, BW, EFI & CII.

Thiru's comments are periodically published in leading News Papers and Magazines besides, Linked In. In addition, Corporate Citizen magazine covered Thiru's interview under, "Top Position: A Man of Mettle", in Feb.2016 issue and Thiru also figured in The Human Factor Magazine's "2016 Listings of India's Best HR Heads" in their January 2017 issue. Thiru has also written Forward for the book The HRD ALMANAC emphasizing," We must always keep the larger purpose in mind...and be the Torch Bearer for our profession."

Thiru serves as a Governing Council Member for select few management institutes in India and has been conferred with several accolades / awards. Thiru is an Accredited Independent Director by The Directors' Club and a Certified Coach of Erikson International.