Speaker Profiles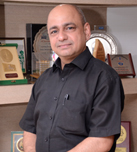 Dr. S P Sharma
Chief Economist, PHD Chamber of Commerce & Industry
Career Facts and Other Highlights
Dr S P Sharma has around 22 years of diverse experience in the various areas of the economy and businesses. He began his career with the Economic & Statistical Organisation, Government of Punjab and subsequently worked with the Cabinet Secretariat of Government of India, The Associated Chambers of Commerce & Industry of India (ASSOCHAM), PricewaterhouseCoopers, IL&FS Investsmart and the Tata Capital.
Currently, since November 2010, he is working with the PHD Chamber of Commerce & Industry as Chief Economist. His responsibilities here are to facilitate dialogue between private sector stakeholders and government; to represent the various industry issues to Ministries/Departments of Govt. of India and respective State Governments (PHD Chamber represent 20 Northern and Central States of India); to conduct research studies/surveys on various International, National and Sub-national economic issues; to provide research based comments on various economic developments/releases like GDP, Inflation, IIP, Exports, Infrastructure, Monetary Developments and Fiscal Developments, among others; to prepare the State Profiles of various states; to make presentations on various economic and business issues/developments to various trade and international delegations from international community; and to prepare speeches/presentations/talk points for President of the PHD Chamber for his interaction with various stakeholders.
He has conducted more than 100 research studies/ papers/ state profiles etc. with prestigious organizations such as Ministry of Commerce & Industry, National Commission for Women, UNCTAD, European Commission, Industry Chambers as well as corporate.
He has been engaged in the prestigious policy studies of Government of India such as 'Impact of VAT, FBT, Services Tax on Exports in India'; 'Impact of Export Infrastructure on Exporters in India'; Projections for India's Exports and Infrastructure Requirement' and 'Impact of Inverted Duty Structure on India's Handloom Industry' commissioned by UNCTAD, Emerging Contours of MSMEs, CAG audit reports on SEZs, EOUs and trade facilitation measures.
He also appears in various prestigious panel discussions/round tables conducted by various TV channels, educational and research organisations such as Lok Sabha TV, Rajya Sabha TV, Doordarshan, ICRIER, Delhi University and IIMs, among others.
Currently, he is leading a team of 10 Economists/Senior Research Officers/Research Officers and Research Associates. His team is working on various prestigious research studies assigned by CAG office of Government of India, Ministry of Science & Technology and State Governments, among others.
He has guided more than 100 Interns/Trainees from various prestigious institutes in India and abroad--Delhi University, Jamia Millia Islamia University, Panjab University, University of Manchester, UK among others.
Aon Hewitt Manufacturing Industry Rewards Conference 2017
Date:
23rd November 2017
Venue:
The Leela, Gurgaon

Timings:
10:00 am to 5.00 pm.