Decoding the Joint Venture Double Helix
Leveraging Human Capital To Build Successful Joint Ventures in Emerging Markets
By Sharad Vishvanath
Introduction
Corporates around the world continue to look at emerging markets for driving both revenue and profitability growth. One of the vehicles of gaining entry or expansion in these markets is through the Joint Venture (JV) route. The JV route of expansion has many advantages over say an acquisition or Greenfield buildout, especially in Asia Pacific emerging markets. Aside from the fact that a JV partnership often times is the only way to enter a market due to regulatory realities, there are many other sound business arguments for the JV route. For example, local JV partners can help overcome any gaps in unfamiliar markets, and can provide a smooth runway for growth in complex markets, such as China or India.

Furthermore, the JV partner can bring significant distribution or after-sales reach. The JV partner's experience in navigating the bureaucratic landscape is typically invaluable. JV partners also understand the talent landscape and typically operate off a low talent-cost base, which provides leverage (as well as some issues). These reasons make strategic alliances and JVs an increasingly popular vehicle for corporate development in emerging markets. According to a KPMG report entitled "Joint Ventures – a tool for growth during the economic downturn"1, JVs were not rated as the most preferred route to growth due to difficulties encountered in managing and delivering perations and strategies. This perception is now changing as JVs are delivering on their promises.

JVs require a different mindset to M&A, which inherently involves posturing for the highest selling price and the lowest buying price. On the other hand, JVs require genuine collaboration to be successful. In that respect, trust is fundamental.

Other observations of the survey results include:
Over 60% of the survey respondents considered access to new markets as the most popular motivation for a JV.
40% of the respondents stated that a JV helps reduce costs.
While sometimes the JV route may be the only reality, and notwithstanding its advantages in emerging markets, it's fair to forewarn uninitiated business leaders that it can present a minefield of issues on the human capital front. In fact, these human capital issues ultimately can make or break the JV, even if all else falls into place.

Given the strategic criticality and the time, money and effort investment in JV's, it is a burning platform for business leaders. Aon's research and experience show that in successful JVs, the business leaders often lead the strategic initiative with their HR leaders, rather than looking to HR leaders to solve the issues for them.

Let's explore the opportunities, challenges and a framework to build successful JVs in Asian emerging markets like China and India, focusing on both the common and unique issues.
The Contours of the Challenge
To build successful JVs, we need to understand the contours of the issue landscape. It's very important to begin at the altar of business rationale. The second aspect is the right framework to apply to uncover the issues that are relevant to this particular JV, as well as the generic issues. It's critical to clearly articulate the strategic and operational goals behind the JV, then understand the linkage to HR systems, and surface the possible HR operational considerations that are paramount to achieving these goals.

There could be a myriad of key strategic goals that a JV may be driving. Some examples are new market or product expansion, localized product development and marketing, a critical link in the global supply chain for operational efficiency and cost plays, a R&D play, a pricing play, etc.
But whatever the goals, they can be distilled into some key business considerations and critical decisions that will ultimately dictate success. Some of these critical decisions are as follows:
Degree of autonomy from the parent organization;
Uniqueness of JV identity;
Nature of the employment relationship for employees;
Disruption tolerance;
Duration of the JV agreement and exit strategy.
It's critical to understand what some of the fundamental strategic issues and factors at play are, and the logic tree that connects them to HR implications, and the possible resulting HR operational issues. The chart below lays out an example of a probable framework.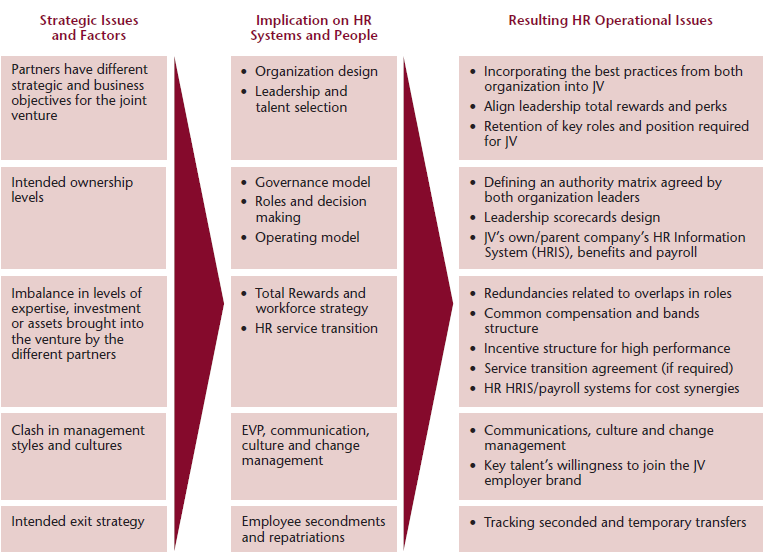 Let's examine a few of the differences that our research and experience suggest MNC firms grapple with when they consider local JV partners in emerging markets (such as India and China).
High appetite for risk by local partner;
Lack of adherence to governance structures;
Centralized and quick decision making;
Incongruous and fluid organizational structure and roles;
Possible maturity of business-linked processes, but limited maturity of e-enablement of HR systems;
Wide variance in compensation and bands within the organization;
High connect with leadership team and lack of leadership scorecards and delegation of KPI's;
Frequent cross-functional career movements.
These differences offer both an opportunity to leverage some great practices and DNA that the local partner will offer, and also the ability to create natural friction points. It's very important to leverage the strengths of the partner that your organization may lack and to proactively manage the potential frictional points.

Let's examine some the areas where foreign partners can gain immensely from the local partner's strengths.
1. Strong local brand:
This can be leveraged for both consumers and prospective employees. A recent example of this is the TATA-Starbucks JV where Starbuck's China and Asia Pacific president, John Culver, acknowledged the strong asset the TATA brand brought to the table. Culver told the reporters of livemint.com, "We will look at expanding this partnership as a long-term relationship....We are excited about building an enduring company that has a positive impact on India." He went on to describe this JV as a "unique partnership which will launch some co-branded products under the Tata-Tazo brand." This is quite an accolade in view of the fact that Starbucks is already a highly visible global brand in its own right. Such global name recognition can be very critical for market and employer branding, especially if the foreign partner's brand is relatively unknown in highly competitive talent markets.
2. Strong supply chain and procurement skills:
This can provide strong business leverage for a foreign player who is unfamiliar with the local market. This also extends to the talent supply chain, as this is most often a critical component of the success plan, but not always understood all that well. One caveat on the talent supply chain, however, is that an optimal balance between local prevalence and the foreign partner's needs has to be architected. Otherwise, you run the risk of creating an imbalance between the talent quality and cost needed for the JV.
3. Globally competitive project management and growth principles under considerable constraints:
This is a unique strength that many of the Chinese and Indian private sector firms possess that has made them successful, and will now stand them in good stead as they go global. As an example, the book "The Indian Way", written by Professors Peter Cappelli, Harbir Singh, Jitendra Singh, and Michael Useem from the Wharton School, beautifully articulates the constructs underlying the concept of how Indian businesses manage to succeed, often within severe constraints, suboptimal bureaucratic environments, and limited resources. They do this by drawing on improvisation, adaptation, and resilience to overcome endless hurdles. This book presents some great lessons that global organizations can learn to leverage as they partner with firms in India and China. Professor Harbir Singh, explains that in the Indian business landscape, firms are treated as organic enterprises where people are viewed as assets. Developing a working culture and sustaining employee morale are both critical to their success. The presence of a strong inclination towards improvisation, as well as an organizational receptivity to change with a social connotation, are India's contributions to the global business landscape.

A pertinent example is of the two Reliance groups and their inherent project management and execution skills that both have demonstrated across petrochemicals, telecom, and financial services. Reliance Industries Limited (RIL), under the chairmanship of Mukesh D Ambani, has successfully built a strong foundation for greater future expansion and growth in the diverse lines of business that it operates. RIL's interests range across petroleum, petrochemicals , power, and infocomm. On the other hand, Anil Ambani, chairman of Reliance's ADA group, has been able to grow apidly and become a leading player across multiple industries in a very short span of time. The interests of the ADA group also range across telecommunications, power, and financial services.
4. Driving operational efficiencies and the concept of "frugal management":
Both Chinese and Indian firms have strong management practices wherein they do more with less, as compared to their western counterparts. The concept of "frugal management" sometimes provides inherent competitive advantages that can be leveraged in a JV to drive future growth and profitability. As an example, GVK Industries in India has a great track record for venturing into unfamiliar industry segments like infrastructure (airports, power etc) and now resources (the Hancock deal in Australia). They have delivered consistently on all strategic success parameters of these forays, while still maintaining the concept of "optimal management frugality" driving both growth and profitability. They now rightly believe this to be a competence they want to leverage and embed in their new ventures, both in India and globally.

Apart from operational goals and strategies, this concept is equally applicable to managing human capital assets and resources. It can be used to drive growth in the face of uncertainty and can foster a bigger "bang for your buck", and with the same human capital costs.
That said, there are also points of friction and issues that a foreign partner needs to evaluate and proactively manage. Some of these are as follows:
Lack of data availability/standardization and data veracity; multiple stakeholders – both from a data provision perspective and a decision-making perspective;

Compliance issues: Gray areas are the norm as interpretation of the law can have a wide range. Foreign Corrupt Practices Act (FCPA) and anticorruption-led issues are a risk for US and European companies due to inherent corruption in some of the bureaucratic systems.

Mindset issues against and a lack of oversight and governance along with centralized decision making.

Culture alignment integration: Presence or lack of this can define success or failure.

Reward structures and pay level differences and rudimentary HR systems that don't enable efficiency, lean HR and governance.
Framework and Markers for JV Success
The backdrop laid out above on the landscape, key opportunities and challenges underscores critical considerations when crafting successful JVs. Now let's discuss some of the markers for success that foreign firms should embed as they look to select JV partners and set up JVs in Asian emerging markets.
​Do a thorough diligence/as-is assessment on both complementary strengths and friction points:
It's imperative to do a structured diligence/assessment of the as-is state for both organizations (yours and the local partner). Our research and experience show that clients who invest time to conduct a value driver tree analysis and follow up with a thorough as-is assessment, ultimately enjoy a much higher rate of success. The value driver analysis has a three-step process:

​​start with business goals for the JV,
drill down to critical decisions needed to drive those goals,
and finally, determine the HR strategy implications in order to enable those decisions.
The second key differentiator is that these clients also focus on quantifying these goals, establishing benchmarks, and embedding them into their organizational and individual leader scorecards. This aligns goals up front between the various stakeholders.
Prioritize your action plan: Successful clients prioritize the initiatives that will create maximum impact and have complexity that will impact the JV's end goals.

Evolve 3rd culture and systems: Leading-edge clients understand that they cannot force one organization's culture and systems onto the other. Rather, they build a new organization with a new and distinctive identity that combines the best of both worlds. Once understood, they embed the partner's strengths and their own strengths in the way that the new organization is structured, the operating model adopted, and the people systems.It's critical to move employees quickly to a stand-alone company mentality, while retaining a focus on program aspects that work well in either organization.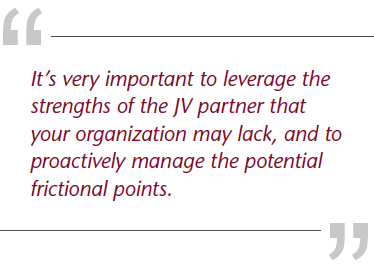 Focus organization design and governance focus: As a foreign partner, you may well have to rely on your local partner's talent and market knowledge. However, it's very critical to have a strong say and active involvement in the JV organization structure, staffing of key executive roles, and governance structures. Smart clients will institute a structured process for evolving the new organization structure and assessing leaders (from both organizations and/or externally) to fit critical roles.

It is important to note that apart from strategy, the financial model for the JV (e.g., are there other equity partners, how much debt are your raising, is the partner a State-owned/public sector enterprise), and the structure of the JV's operating model (e.g., is it an integrated market opportunity involving multiple business divisions/products) have profound effects on how you structure and build governance.

Finally, we also find that success is highly dependent on a strong focus on developing the right management governance structures and processes that evolve from the organization structure.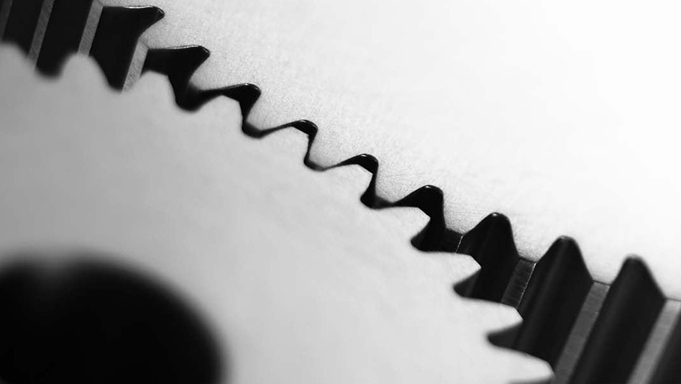 Enabling reward and key HR systems: Successful clients tend to closely link rewards and other key HR systems, such as goal setting, performance management, and career development to enable the new structure and operating model, governance mechanism, and strategic goals.

Over-communicate: Another aspect that differentiates successful JV partnerships is the degree of communication and transparency that characterizes all the major themes of the new organization, i.e., its unique identity, opportunities and challenges, new structure/operating model, and expectations of employees to enable the JV to succeed.
It is pertinent to note that as a foreign partner, if you are at odds with your local partner on how to address many of the key issues that a value driver analysis throws up, it may well be prudent to even consider walking away.

JVs in emerging markets are not easy to execute and we have seen many failures. But our experience and research clearly suggest that some "genetic markers" embedded early and appropriately in the JV design and setup, can dramatically increase its chances of success.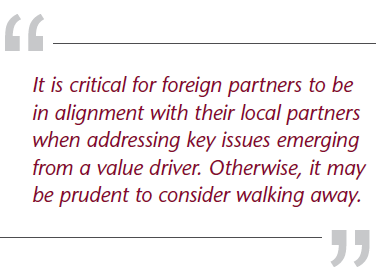 ---
Author
Sharad Vishvanath, Asia Pacific M&A Market Leader, Aon Mergers & Acquisition Solutions, Aon Hewitt (sharad.vishvanath@aonhewitt.com)
Follow us on LinkedIn & Twitter