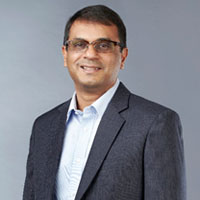 Deepak Reddy
Group Head - Human Resources, Bajaj Finserv Limited
Deepak is currently the Group Head - Human Resources for Bajaj Finserv Ltd. Bajaj Finserv Ltd has the following companies in its fold - Bajaj Finance Ltd, Bajaj Allianz Life Insurance Company, Bajaj Allianz General Insurance Company & Bajaj Housing Finance Ltd. The newly set up "Group Learning Academy" also reports into Deepak.

Deepak Reddy is known to be a people's person and is a key member of the team that has transformed Bajaj Finance Ltd into one of India's most respected & profitable financial institutions. He has also been credited for the transformation of Bajaj Finance's HR practices in a short period of time and in making it to Aon's list of Best Employers for the last 5 years in a row.

Deepak is a versatile leader and has done multiple roles in his 20 year career, spanning across Sales, Product Management & Human Resources. He in fact had never done a HR role, until six years ago. His HR Mantra is to develop practices that are simple, common sensical, transparent and with high business impact.

He has previously worked with American Express, Standard Chartered Bank & Onida prior to joining Bajaj Finserv. He is a management graduate from T A Pai Management Institute and his latest passion is riding his bike – a 2400 cc monster.