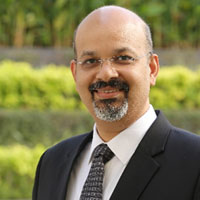 Tarun N P Varma
Vice President - Human Resources (India Operations), Shell
Tarun N P Varma, leads the Human Resources function for Royal Dutch Shell's businesses in India. He serves as a Director on the Board of Shell India Markets Private Limited, and is a member of the CSR Committee. Given his professional capacity and personal passion, Tarun provides executive sponsorship to the Young Shell Network and the Shell Women's Network across India.

Tarun believes in equipping, empowering and energizing People, so that they may in turn bring alive their dreams and aspirations to make a difference. This belief is shaped by his own diverse life experiences having lived, travelled, studied and worked across 22 States within India as well as learning from Leaders at leading multinational corporations such as Vodafone, Hindustan Coca-Cola Beverages and Nestle where he served across a spectrum of generalist and specialist HR roles of increasing complexity and responsibility.

A post graduate in Personnel Management & Industrial Relations from the Tata Institute of Social Sciences, Mumbai, Tarun is a HR manager by profession, and an Engineer by qualification, given his Mechanical Engineering degree from the National Institute of Technology, Jamshedpur.

A strong believer in giving back to communities, Tarun remains a consistent proponent of 'Joy of Giving' , especially to causes linked to education of Children. He also derives energy from giving back to his profession, by being part of academic programs, being a life member of the National HRD Network , and connecting with fellow professionals on https://in.linkedin.com/in/tarunnpvarma.

Tarun and his wife Sandhya, a former marketing professional with Nestle, are parents to 13 year Soumya and 7 year old Sharath. As a family they love to travel and immerse themselves into the culinary shades of every place they visit.

Note - Shell's operations in India represent all facets of an integrated Energy major, including the Upstream, Integrated Gas, Downstream, Projects & Technology and Shell Business Operations centers. A diverse, multi-cultural, multi-generational, and multi-functional workforce of over 7,100 Employees across India helps fulfil Shell's purpose of powering progress together through more & cleaner energy solutions. This includes contributions to global and domestic operations and delivering substantive value to the Group across businesses and service lines.